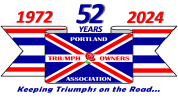 To submit a request for items wanted, contact the webmaster and provide the text exacty as you wish it to appear. Items will be removed after 60 days unless requested otherwise.
TR6 Taillights Needed
Needed tr6 pair of taillights contact Randy 503-888-one five zero three
---
TR3-TR4 9" Brake Back Plates
Looking for Triumph TR3-TR4 9" rear brake back plates 9". Will consider buying the whole rear end if I must, but not the whole car. Call Dave 503-428-eight, five, two, seven
---
TR3-4 Exhaust Manifold Wanted
Call Dave 503-428-eight five two seven
---
Garage Space Wanted
I need a garage/garage space for my TR-3B within the next three months, or I'll be forced to sell my car.† I want to remain an active club member and enjoy that sweet little car in all the events we will eventually have after COVID, so if anybody has one or knows someone who does, they can contact me at 253-228-0394 or mail at metguy@comcast.net.†
---
TR6 Hardtop Wanted
Triumph TR6 Factory Hardtop to fit 1976 model.† Call Steve at 360 518 3724
---
1953 Morgan
I am hoping to find my old 1953 Morgan plus 4 Flat Rad Frame # P2616. †Black w red interior.
If you know of this car please contact me. Call Ian at†516-635-6284†NY est time
or email variety@optonline.net
---
Iím doing a frame off restoration of a TR250
The front end was in pretty bad shape when I bought it for the project.
Iíve come quite a ways on the restoration but am now stuck at the front end. I had a core support welded on, but the gent that did it for me put it on crooked and both my body guy and I are confused how it should fit properly. We are hoping that there is someone in the community with a TR250, preferably in the Hillsboro/Beaverton area that has a 250 that we can come look at and take a bunch of measurements.
Additionally, Iím looking for new front bumper brackets that connect the bumper to the chassis. †Iíve learned that these are no longer made. †The part # from The Roadster Factory is 812405 & 812404 and is described just as I mentioned ďBracket securing front bumper to chassis frameĒ.
Hoping there is someone out there that can help.
Contact Rich Karlson at 50-804-4653 or email richkarlson@gmail.com
---
Help with Restoration - TR250
Spitfile Steering Wheel Center Piece Wanted
I am looking for the centre donut piece for a 1977 Spitfire,
Please call Andy at 5033416824
---
TR3-4-5-6 and/or MGB-GT Wanted
Wanted:† TR3-4-5-6 in Primo Condition.† Also looking for a Primo MGB-GT.
Email:† williamklausman@gmail.com†or call Bill 503-522-5577.
---
67-69 GT6 Engine Wanted
Hi, I am looking for any leads on a 67-69 Triumph GT6 engine, ideally an intact complete core that is in need of rebuild.
If you happen to have an extra or know of someone who does, contact by:
Email : m.sch7167@gmail.com
Or call Matt @ 520-971-5870. Thank you.
---